Those Magnificent Men (4) – The Journey Back to the Somme
Those Magnificent Men (4) – The Journey Back to the Somme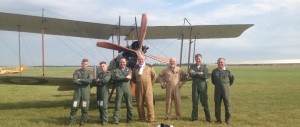 ,dmflkjvblkdrsnvz.

… . Our ground party reported later that the poppies sailed over Prince Charles at about 50 ft and those that did not land in the Cemetery landed in the nearby field where many of the NZ fallen lie in unmarked graves. There were 3000 casualties on the first day of the Somme for the NZ Brigade and more than 10,000 in total. The poppies landed in the Cemetery as a young New Zealander, Frenchman, and German were reading their hopes and prayers for the future as no doubt all those fallen had held before them.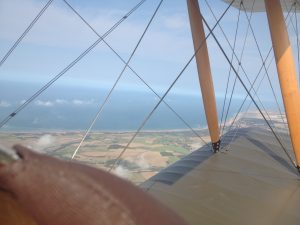 With a strong crosswind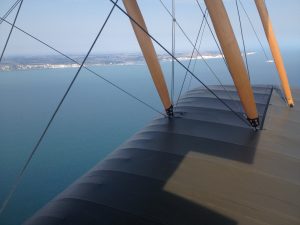 component the leg to Abbeville took 40 mins at a spritely 45 mph over the ground. Clearly, my 17 stone was not helping his progress. So, after a quick refuel John launched for England with Keith soon drawing ahead of the BE2. Mindful of its Reconnaissance heritage, John carefully edged his Iphone camera into the slipstream on the flight back where once a box camera with individual plates used to sit and took some wonderful pictures of the French coast, the Channel, the white cliffs of Dover and, on the 76th anniversary of the Battle of Britain to the day, the wonderful memorial on the cliffs. The BE2 had a cut out at the back of the lower wing at the inboard end to enable pictures to be taken.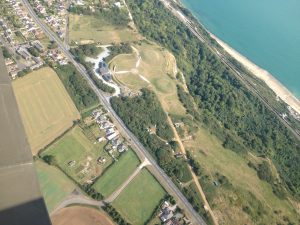 Keith was less fortunate in that his engine failed and he had to force land which damaged the Albatros but thankfully not him in the process. The Albatros is now back in the work shop and will shortly be dispatched to New Zealand for repairs. With the right support, we could have it back in time for next season. We are starting an Online Giving Page to help with the rebuild. The Albatros will stay in UK till 11/11/2018 if not longer if we have some help with the repairs. We are also promoting our Snipe with its magnificent Bentley BR2a rotary engine and are seeking a sponsor or group of sponsors to keep it in UK. Watch this space