Nieuport 17 To Fly under the WW1 AHT Banner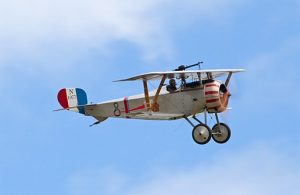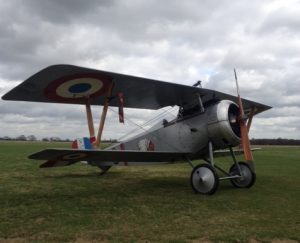 This Nieuport 17 joining WW1 AHT is a full size flying reproduction and was built from 1992 to 1997 by Robert Gauld-Galliers and John Day, and until late last year was based at IWM Duxford. It had a film role in the 2006 film Flyboys – about the young American volunteers of the Lafayette Escadrille. It is powered by a Warner Scarab 7-cylinder radial engine – 165hp and owned and flown today John Gilbert, the aeroplane is one of several WW1 reproduction flying planes based here at Stow Maries.
The markings on this aeroplane are dedicated to N1977 of the Escadrille Lafayette, flown by Sergeant Robert Soubiran. Soubiran was an American aviator during World War One and was one of the first Americans to arrive in France in 1914, enlisting with the French Foreign Legion, he was one of 38 Americans who went on to join the Lafayette Escadrille. He later attained the rank of Major in the U.S. Air Force.
The Nieuport single seat fighters were one of the great classic marques of the Great War.  Designed by Gustave Delage, this well-proportioned French aeroplane was operated by many air services including the RFC.  The Nieuport 17 reached the French front in March 1916, and quickly began to replace the Nieuport 11 in French service.  At that time, it was superior to any British fighter, and it became the popular mount of many Allied aces, including Albert Ball when he was in No. 60 Squadron.
 In total 525 Nieuports (of all types) were ordered by the Royal Flying Corps and Royal Naval Air Service.  Worthy of note is the fact that during part of 1916, the Nieuport 17 equipped every fighter squadron of the Aéronautique Militaire. (the French Air Force at that time). The Germans supplied captured examples to several of their aircraft manufacturers for them to copy.  The type 17 was a slightly larger development of the earlier Nieuport 11, and had a more powerful engine, larger wings, and a more refined structure in general.
WE NEED YOUR HELP!  Become a Patron of WW1 AHT (PoW) to Keep the aviation Legacy of WW1 Alive!

Photo thanks to TLE/Kev Gregory