Be a PoW!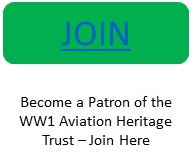 The Centenary of the Great War and the Royal Air Force formed from the integration of the RFC, RNAS and Independent Bomber Force is now in its 101st year.  We manage the BE2 (above) which belongs to our German Trustee and which operates Stow Maries Great War Aerodrome in Essex.  Stow Maries is the only remaining WW1 aerodrome with many original buildings intact, it is a listed site, and is the subject of a major preservation effort with the help from the Heritage Lottery Fund and other charities.
WW1 AHT is in partnership with the Stow Maries Trust – both Charities are dedicated to advancing  education in the aviation legacy of WW1. Essentially, it is a partnership to create a worldwide centre of excellence for everything to do with WW1 aviation, a dynamic aerodrome with a WW1 flying focus, and ultimately a self-sufficient hub for engineering and apprenticeships/STEM.
The Vintage Aviation Echo captured the vision of WW1 AHT in an inaugural article in April 2017. As stated in the other post currently on our website, our German Trustee has offered his Fokker DVII plane to the Trust in the next few months and the Albatros DVa and SE5 when they return from NZ next year. Also, although the TVAL Snipe and BE2 have been recalled to NZ, we are in active discussion with the new management at The Vintage Aviator and hope to be able to move forward again with them shortly for next year.
We run a rocking nacelle (a WW1 flight simulator) at Stow Maries. It is a stunning combination of 100-year-old technology designed by one of the legends of RFC history, Major Lanoe Hawker VC, DSO, RFC with state of the art virtual reality and has given us an amazing 3-axis motion simulator with 360-degree visuals. We are indebted to the HLF for their grant of £10,000, and to the students of Essex, Ben Librojo (the developer), the Dawn Patrol and Denis Stretton for their contribution to the finished product. Come and try your hand at flying a WW1 combat aircraft!
So, What's in it for you?
You will receive an annual membership card with a different aircraft on the card each year.
A Quarterly Newsletter on the Trust's progress and the satisfaction of contributing to it.
An annual meeting at Stow Maries for PoWs with the pilots with flying if the weather permits or fly missions on the rocking nacelle if it does not (or both!).