We need you!
The WW1 Aviation Heritage Trust carries with it an exciting brand of historical interest, early technical development, and the unstinting courage of our aviation forebears. Whether you are an enterprising Company or an interested descendant or a just a historical buff, we offer something for everyone. We are looking for Sponsors to keep our aircrafts flying so the British public can see just how flying took off over 100 years ago stimulated by the catalyst of the Great War air battles.
We are a registered trust, empowering future generations about the great aircrafts of WW1. As a team of experienced pilots, we're here to educate, inspire and inform; demonstrating expert knowledge and enthusiasm for a host of different aircrafts that once took over the skies. From talks to events to knowledge sharing, we're here to keep the legacy of aviation alive – but now we need your help!
SPONSOR | DONATE | BECOME A PATRON
We are seeking donations and sponsorships to help us continue our journey! If you want to help and follow our progress more closely, then you can also become a Patron of WW1AHT (PoW). View video of the BE2e in action below.
SPONSORSHIP OPPORTUNITIES
Our aeroplanes all have unique attributes that will chime with your Company's identity and provide an unusual backdrop to your branding.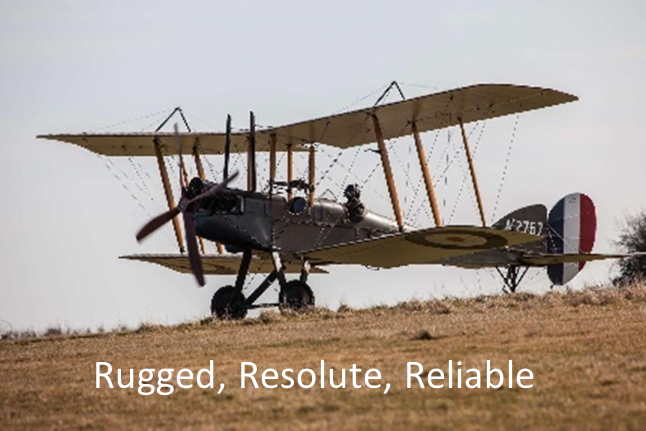 We are seeking to cover the annual costs of maintaining and insuring our aeroplanes above so that we can keep them flying. The annual costs are £3000 for the servicing and £3000 for the insurance for each aeroplane. Sponsorship opportunities allow us to continue nurturing these aeroplanes but is also a great way for your business to gain exposure. In return for covering one or more of these costs we offer:
Joint branding and photo opportunities.
Your sponsorship details on aeroplane sign boards when on display.
Our 1915 flight simulator with VR missions to support your corporate or social event.
DONATE
With 3 aeroplanes to keep flying and a fourth expected soon, fund-raising is a permanent activity of all Charities, and the WW1 Aviation Heritage Trust is no exception. With costs of £22500 per annum already, any help that you can donate to this worthy cause would be most welcome. If you would like to donate, please follow the link below and help us Keep the Aviation Legacy of WW1 Alive.

JOIN
Become a Patron of WW1 AHT and become a fan and supporter of the Trust.
WANT TO BE A PoW?

We have a strong network of Patrons who have all generously donated throughout the years but are always looking for more as we continue to grow and showcase these magnificent aircraft. For only £30 per year, you can help us keep our aeroplanes flying: a BE2e, Albatros DVa, and Nieuport 17.
What's in it for you
Receive a membership card every year you're with us
4 x Airside Newsletters per annum
A WW1 AHT pin badge
An annual Invitation to an exclusive WW1AHT event
To become a Patron, or to find out more click here.