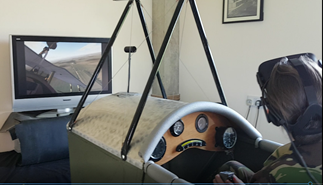 WW1 Aviation Heritage Trust's Flight Simulator – aka a Rocking Nacelle (1915)
Help bring the challenges of early flight and aerial combat to the public
Not many are aware that the first full 3-axis motion simulator was actually built in the Great War using a cast-off aircraft fuselage.  It was the brainchild (amongst many) of Major Lanoe Hawker VC, DFC, RFC who was a charismatic fighter pilot and an inspired engineer.
The purpose of the Rocking Nacelle was to teach pilots to fire at moving targets on a range using live rounds from the Lewis gun mounted on the structure.  Clearly, Lewis gun rounds ricocheting around Essex would not cut the muster with Health and Safety in 2017 so the WW1 Aviation Heritage Trust has recreated the Rocking Nacelle with the help of HLF Funding using the latest Virtual Reality Technology.  The Rocking Nacelle is based at Stow Maries Great War Aerodrome in Essex.
It has been a great success as a community endeavour to blend 100-year old technology with the latest VR headsets – an elegant solution of which Major Hawker and all those involved can be justifiably proud.  The missions can be flown in the nacelle or just using the headset alone to rehearse one of five 'virtual' missions – Familiarisation Flying from Vert Galant airfield near Arras in N France, Gunnery and Bombing, Contact Patrols, Air to Air Combat and night sorties against the Zeppelins from Stow Maries.
Over 200 10-minute missions have already been flown by young and old in Essex and Bedfordshire using the VR headsets introducing them to the challenges faced by men and machine in WW1.
However, we now need to raise £7,500 to cover the annual expenses of the Volunteers needed to man the Rocking nacelle and set up the Headsets.  If you are able contribute you will have free access to the Rocking Nacelle when not in use by fare paying 'pilots' and you would be very welcome to volunteer to assist us man the device – some IT skills are essential.
Please contact rockingnacelle@ww1aht.co.uk if you would like to voiunteer