Flt Sub Lt RA Warneford VC RNAS 2-19
"For most conspicuous bravery on the 7th June 1915, when he attacked and, single-handed, completely destroyed a Zeppelin in mid-air. This brilliant achievement was accomplished after chasing the Zeppelin from the coast of Flanders to Ghent, where he succeeded in dropping his bombs on to it from a height of only one or two hundred feet. One of these bombs caused a terrific explosion which set the Zeppelin on fire from end to end, but at the same time overturned his Aeroplane and stopped the engine. In spite of this he succeeded in landing safely in hostile country, and after 15 minutes started his engine and returned to his base without damage."
The London Gazette of 11 June 1915, Numb. 29189, p. 5635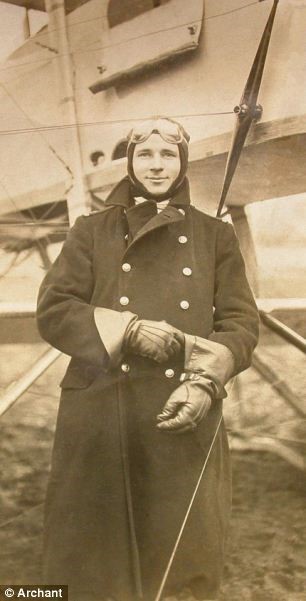 Like so many citations, the whole story of Flight Sub Leutenant Reginald 'Rex' Warneford's exploit lies behind the words. He was a member of No 1 Squadron RNAS based in Veurne in Flanders after the initial campaign of manoeuvre had stabilised at the end of 1914. The Royal Navy were charged with Home Defence and in typical fashion elected aggressive defence as their metier, forward basing their squadrons in Belgium and Northern France to defeat the growing threat from the Zeppelins. The RN had not long separated from the RFC with the help of the First Lord of the Admiralty (Churchill) and formed the RNAS to give them freedom to purchase their own aircraft (from the French) as opposed to being tied to the Royal AIrcraft Factory products.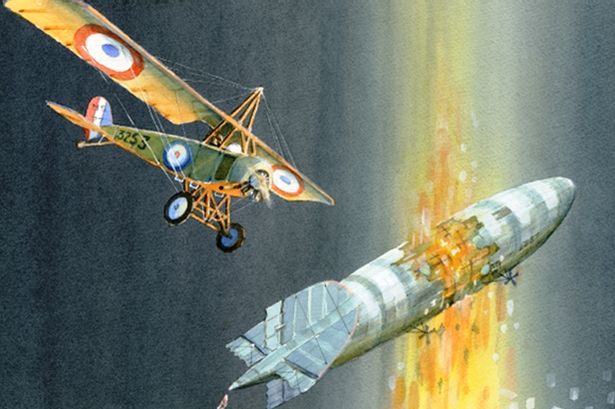 Warneford was a product of colonial India and separated parents. He was a gifted pilot but had a large chip on his shoulder. On the night of 7th June 1915 he was flying a Morane Saulnier L. To chase a Zeppelin and to position the aircraft above the airship was no small feat – one that defied the RFC in their BE2s until Sep 1916. Dropping 20lb bombs on an 800ft long Zeppelin from 100ft above it was also not for the faint-hearted. The Zeppelin blew up around him and he lost control. When bits of Zeppelin stopped raining down on him, he was pleasantly surpised to find the aircraft still responding but without its engine. An engine off landing at night is fairly challenging, but he managed to land safely in the pre-dawn mist. There he discovered that a fuel pipe had been severed and set about repairing. Job done, he then had to swing his own propeller without chocks. The engine fired up and the aircraft rolled forward. He managed to clamber back in to the moving cockpit and fly off just as some German cavalry arrived to try to capture him.
The postscript to his story is staggering. Unfortunately, the Zeppelin landed on a convent sheltering refugees and several nuns and children were killed. All the German Crew perished bar one who jumped from the blazing Zeppelin and landed in a garret. Warneford was awarded the Victoria Cross and Legion D'Honneur and was lionised in Paris. He received the Legion D'Honneur from General Joffre but was never invested with the VC. Contemporary comment observed that outstanding bravery had a remarkable effect on the young Parisian ladies. After two weeks, Warneford set about returning to duty and was tasked to fly a Nieuport back to the Squadron. He offered a seat to a journalist but shortly after take-off the aircraft dived into the ground killing the passenger instantly and Warneford died a short while later in hospital.