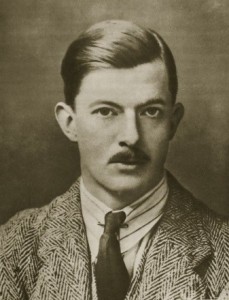 Aidan Liddell obtained his Royal Aero CLub Ticket (No. 781) in the spring of 1914 flying the Boxkite with the Vickers School at Brooklands, Surry.
On 30th August 1914, on the outbreak of war, he accompanied the 2nd Bn, the Argyll and Sutherland Highlanders, to the front in France with the rank of Captain and was placed in command of the machine gun section of the Battalion.
For his service as commander of the Battalion machine gun section he was mentioned in despatches, and received the award of the Military Cross on 14th January 1915. He was himself wounded and invalided home. Once he recovered he was deemed unfit to go back to the trenches but as a qualified pilot, cleared to join the RFC.
His diary of his 43 consecutive days in the trenches makes compelling reading and demonstrates the war of manoeuvre that defined the first six months of the conflict including the famous truce on Christmas Day.
WAHT would like to contact any surviving members of the Liddell family. The diary is held by the RAF Museum, accession number AC 82/20/22.