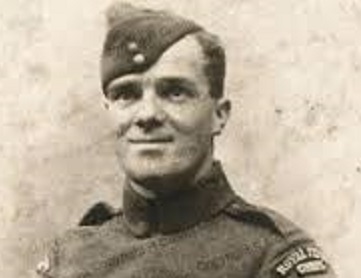 For most conspicuous bravery, endurance and skill, when attacked at an altitude of 9,000 feet; the petrol tank was pierced and the machine set on fire. Enveloped in flames, which his Observer, Lt. Gower was unable to subdue, this very gallant soldier succeeded in bringing his aeroplane back to our lines, and though he made a successful landing, the machine collapsed on touching the ground, pinning him beneath wreckage from which he was subsequently rescued. Though suffering extreme torture from burns, Sgt. Mottershead showed the most conspicuous presence of mind in the careful selection of a landing place, and his wonderful endurance and fortitude undoubtedly saved the life of his Observer. He has since succumbed to his injuries.
No. 29937″. The London Gazette (Supplement). 9 February 1917. p. 1445.
On 7 January 1917, Acting Flight Sergeant Thomas Mottershead was on patrol near Armentieres in FE2d of No 20 Squadron. He had just returned from leave and had to contend with a late change of aircraft delaying his departure. Once on patrol at 10000 ft, he and his wingman met a pair of Albatros (DIII). Having despatched one Albatros, the other flown by Vizefeldwebel Walter Gottsch opened fire from below and behind Mottershead's FE2d and set the fuel tank on fire quickly setting the clothing of the unfortunate pilot alight – every pilot's nightmare. Already a holder of the Distinguished Conduct medal for destroying an ammunition train and an Eindecker in one sortie in November 1916 while flying an FE2b, Mottershead was the only non-commissioned officer to be awarded the Victoria Cross for valour in the air.